HOW DO YOU MEASURE WORKFORCE PERFORMANCE
THE

FUTURE

DEPENDS ON WHAT WE DO IN THE

PRESENT
Preconfigured Objectives. Behavioral based Feedback from the people Employees interact with daily. No more sending manual surveys or determining who should provide feedback. We've automated the process to ensure participation and inclusion.
The workforce now has visibility to their own real-time performance data! Not only can they view their personal objectives & scores, inspHRations given/received, intHRaction feedback, communication data from Manager / HR / Consultants...they can also manage their own profile information including career aspirations, personal insights, work status, and relocatability. Real-time data supports personal accountability and growth!
Those who inspire others through their actions, drive positive culture. inspHRation is the Workforce Recognition feature designed to drive ROI - (Return on Individuals) by empowering employees to recognize others for exemplifying your Company Values on a weekly basis through an automated survey process.
"Happy Birthday" is not behavioral Recognition. Drive your Organization's Core Values by recognizing the team members that exhibit them with our inspHRations and encourage your employees to live your culture.
Simple behavioral based feedback on how the workforce "shows up", participates, and engages. Detailed ONA mapping of Organizational interaction.
Visibility to the collaborative performance intelligence data of your workforce, and access to tools that enable all members of the organization to be assigned readiness levels, future-focused goals, career mapping, and real-time talent mobility reporting. This data supports all Strategic Workforce Planning efforts and transforms Succession Planning into a valued future-focused differentiator.
Now that your Organization is identifying Employees who are potentially ready for new opportunities wouldn't it be great to actually have accessible data for planning?
What good are experience survey answers if the activity occurred months ago? Personalized Experience Surveys that are automatically generated based upon organizationally defined milestones, career changes, or on-demand opportunities will eliminate the need for Annual Engagement Surveys and provide the real-time data needed to support the workforce at a personal level.
intHRaction provides Human Resources with a catalog of predefined Objectives and Competencies that Managers assign for personalized workforce development. These can be utilized, edited, or you can import your own organizational content. Providing Managers with established, behavior-based content saves time, promotes fairness, and drives consistency.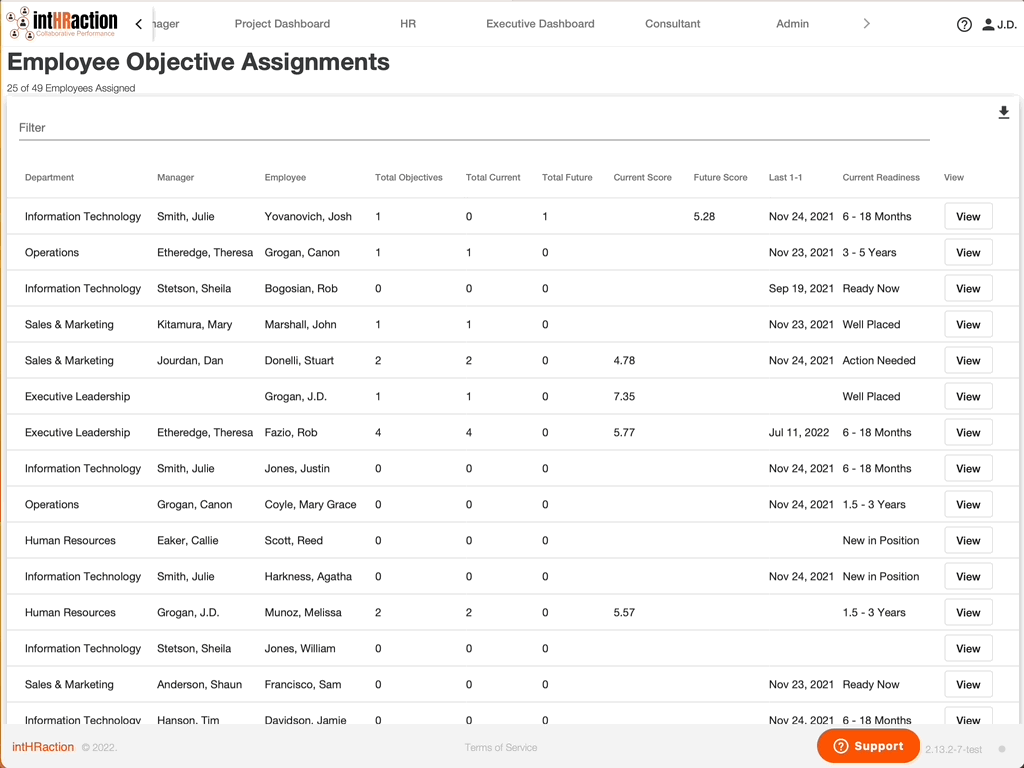 Real-time insight into the continuous improvement objectives established and assigned to the workforce which provides the data HR needs to assist Managers in being accountable for workforce development.
OBJECTIVE RESPONSE DISTRIBUTION
Utilizing the data from peer feedback to understand the relationships that exist within the organization is crucial to driving performance. The Objective Response Distribution tool provides visibility to Managers and Human Resource users showing the collection of personalized Objective responses by Department and Peers.
Call it a Stand-Up, Two Minute Drill or Daily Briefing, the Stand-Up Survey feature is a communication conduit between Managers and their teams to share and document what team members are engaged in on a daily, weekly, or monthly basis. Configure your own questions/cadence to maximize time and stay informed!
Managers and individual Employees have the ability to communicate with each other in a private channel to document 1-1 meetings, provide feedback notes, document conversations etc. intHRaction also has 2 additional private communication channels for individual Employees and Human Resources, and for individual Employees and Consultants that are utilizing the Consultant Features of the platform including Project Management.
intHRaction extends the benefits of real-time feedback on goals, objectives and learnings through our Coaching / Consultant partnership program.
​
Leverage the benefits of real-time feedback between you and the participants in your engagements and take the guesswork out of determining how they are applying your instruction.
If your organization uses it, we've now made it even easier to provide realtime feedback via the power of slack or Microsoft Teams.
Micro-Surveys are automatically sent to the intHRaction bot that is added to your organizations instance of the platform.